Dr. Katie Carter, D.C.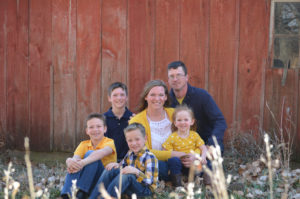 Dr. Katie completed her Doctor of Chiropractic degree at Northwestern Health Sciences University in Bloomington, MN in 2008. She initially opened an office in West Des Moines right after graduation, but in 2009, moved back to the area to be closer to home.
Dr. Katie is certified in the Webster Technique, which is a chiropractic analysis specific to women during pregnancy. She has also had extensive training in both prenatal and pediatric chiropractic as well as sports chiropractic. She has 4 kids and really started to gain an understanding and passion about the true benefit of chiropractic and pregnancy during her pregnancies.
Chiropractic was an ideal career choice after various sports injuries sent Dr. Katie to the chiropractor and she was exposed to and loved the chiropractic model of healing. She initially wanted to only focus on sports chiropractic out of undergrad, but after various pediatric courses and seminars, and having her own babies, she realized her passion was in helping mothers and babies, however, she enjoys seeing patients of all ages.
Dr. Katie and her husband and kiddos (3 boys and a girl) live outside Jackson, MN, but as an Estherville native, she chose to practice chiropractic in her hometown.
Member of the International Chiropractic Pediatric Association and Estherville Elks Lodge.
Gail Nelson, Office Manager
Gail has been office manager since 2013. Prior to working here, she worked in a law office for many years. She is also Dr. Katie's mother. 🙂